Access your folders from anywhere
Just double click on an empty area located on the Desktop, Explorer or File Open/Save dialog box to bring up a menu. Select a favorite or recent folder from this menu and the file dialog immediately jumps to that folder. If you activate this menu from the desktop or tray icon, this folder will be opened in Windows Explorer.
Now you can jump to any deeply nested folder in just a single mouse click! It also automatically resizes every standard file dialog, so that you can see a larger number of files. You will be able to find what you are looking for with a lot less scrolling.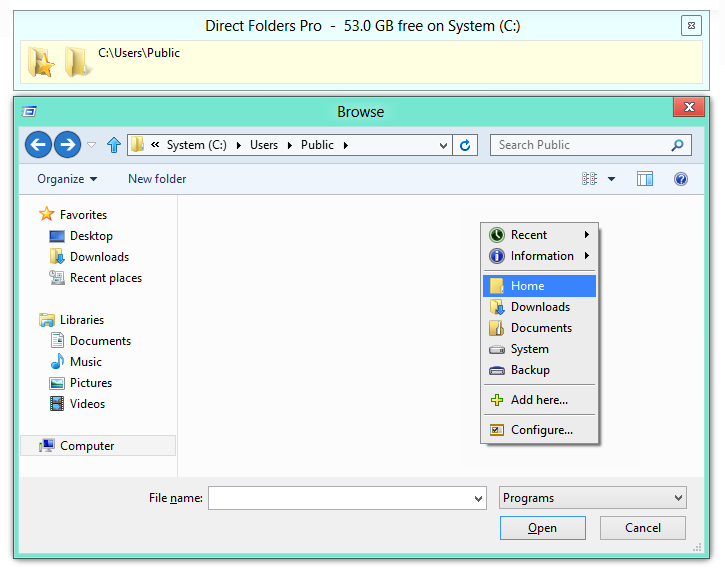 Recent submenu
This submenu displays a list of folders you have recently opened. First are the recent items in the current application (3), followed by global recent items (4).
If you have copied any file to the clipboard, there will be two extra items at the end of the menu (2). This list also contains the path to any folder currently open in Explorer (1).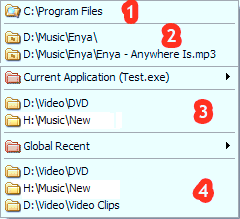 Info submenu
This menu shows the amount of free space on each drive and allows the current folder to be opened in Explorer.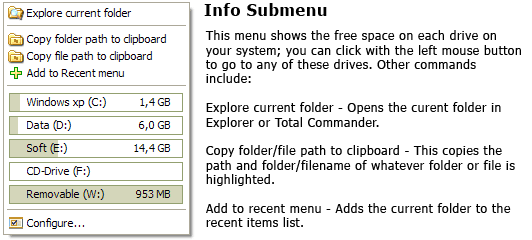 Other Features
ClickSwitch
This feature will make a file dialog instantly jump to the folder already opened in Explorer, Total Commander or Directory Opus. Just switch to the window you need.
File dialogs auto-resize
Direct Folders automatically resizes every standard file dialog, so that you can see a larger number of files.
Default folder
Pro
Set the default folder for any application to open file dialogs in.
Preserve date timestamps
TeraCopy keeps the original time and date of files when copying.
Trusted by forensic experts
TeraCopy is included in DEFT (Digital Evidence & Forensics Toolkit).
Copy locked files
Copy files using an elevated Windows Service and Volume Shadow Copy if required.
Testimonials & Reviews
Direct Folders is a little gem that is worth its short download time, for the dialog customization if nothing else.
PCWorld
I bought Direct Folders yesterday and I just wanted to say that it has got to be the best piece of software I've used for a long, long time. I just wish I had found it sooner!
Dave Justice