Microsoft Windows
Google Android
Droid NAS
for Google Android
Droid NAS allows you to share folders over Wi-Fi network, making your Android device visible as Bonjour computer in Finder on your Mac. Turn your phone or tablet into wireless flash drive with a single tap!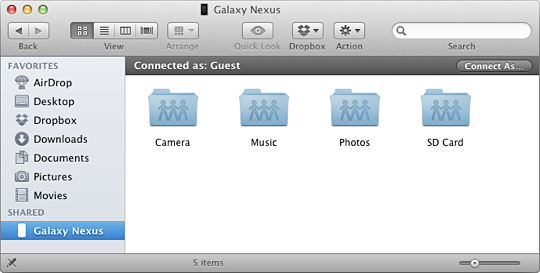 Different profiles can be used to quickly choose which folders to share. Assign your home or office Wi-Fi networks to profiles and Droid NAS will auto-select profiles on start.
Supported systems:
Mac OS X.
Android: apps like ES File Explorer, Solid Explorer, GTVBox Video Player.
Windows is NOT supported because it can't connect to SMB servers via a non-standard port.
Linux most probably also won't work.
Download information
The best way to download or purchase one of our Android applications is directly from the Market app pre-installed on your device. Alternatively, you can do it from the Android Market website using the buttons provided below. If, for some reason, you are having problems downloading this application from the Market app and from the Android Market website, you can obtain an APK file with the latest free version on our Downloads page.
Testimonials
"I been looking everywhere for a solution to sync my files and sd card on my Mac, but nothing seems to be working on my Mac. I tried Kies, Syncmate, and Android File Transfer and none of them could recognize my device. This app is perfect, it recognized my device and now I can transfer all my files to my internal sd card and external sd card drives."A Google User