Compact UI
Audio Sliders is a Volume Control replacement that is five times smaller than its Windows counterpart. Featuring a smart, user-friendly interface, it lets you change volume, bass and treble levels, group playback and recording controls within five custom layouts and gives the ability to save and restore volume levels.
5 user-defined layouts in an easy-to-use, skinnable interface.
Support for multiple (concurrent) sound cards and mixers.
Auto-hide and auto-rollup features.
User-editable control captions (e.g. rename "AUX Volume" to "FM-Radio").
Multiple language interface (with 17 languages included).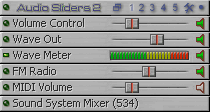 On-Screen Display
Pressing a hotkey brings up a large OSD (On-Screen Display) with semi-transparent background that indicates the volume level or a song name and playback position. This display allows you to change the volume level, select a track or playback position and pause or stop playback.
Pops up on a hotkey press or on a left click on the tray icon.
Configurable text and background colors and the time OSD will remain onscreen.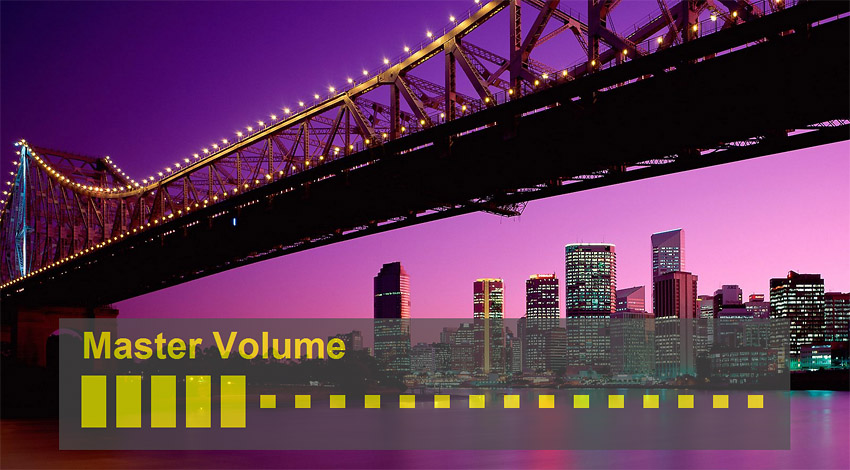 Other Features
Multiple sound card support
Audio Sliders can work with two or more sound cards simultaneously. Volume sliders from different sound cards can be mixed in a single layout. You can quickly change Windows default playback and recording device from a tray menu.
System information
Additionally, Audio Sliders can display time for different time zones, as well as system information including your hard drive's free space, available physical memory, total memory load and CPU utilization.
Hot keys remote control
Remote control uses hotkeys to control most popular CD and MP3 players, including Winamp, Sonique, Quintessential CD, etc. Moreover, the same hotkeys can be used for all players; auto-created submenus can control any installed player.